In addition to my face to face work, I also work online, usually through the video app, Zoom. This allows me to help people all over the world from the comfort of their homes.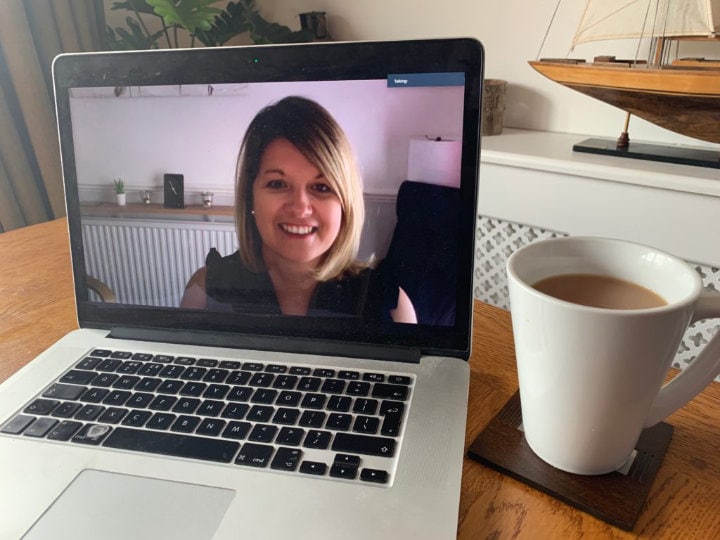 What exactly are online sessions?
Online sessions work in the same way as traditional face to face sessions, but instead of being in the therapy room, it is online, using a computer, laptop, iPad or any device that connects to the internet. It is usually done through Zoom.
Prior to our session, I will send you a Zoom invite . You will need to connect with the link and password I send you. The password is unique to that session and as I only share it with you, no-one else will be able to join. I use a different meeting link and password for each session.
Once connected to Zoom, you will enter into a virtual waiting room and I will connect you to our session.
As with face-to-face work, confidentiality is extremely important. I work in a private room with no interruptions, and I recommend you also find a quiet and private space, where you will not be interrupted for the whole of our session.
After the session, it is important to take some take some time to collect your thoughts. Home, work, family and general life demands can be difficult to return to immediately after a session, so it is a good to allow yourself some time to adjust and process the session.
What happens if we lose connection?
In the unlikely event that the connection is lost or we have a poor signal, we shall try again. Everything possible will be done to re-establish the connection, but if for whatever reason connection is not possible at that time, we can continue via phone or re-schedule the remaining part of your session at a later date. Fees will not be refunded as the remaining time will always be honoured.
Is it possible to have a session via phone instead of video?
Yes it is possible. I prefer to connect with a video link as I find it makes the session more powerful and gives me the opportunity to take note of your body language, gestures and how you are responding during the session… but if you'd prefer your session over the phone, that is possible and something we can discuss.
Some Important Points
Sessions must always be pre-paid.
You are responsible for any costs incurred at your end (just as you would be for travel to an in-person session).
Please ensure you will be free from disruptions during the session. It is important that others know you are not to be interrupted under any circumstances (except in the case of an emergency, of course).
Please ensure pets are in another room (even if they are well behaved) as this could disrupt our session.
If you need to change your appointment date or time for any reason, please let me know at least 24 hours in advance. Appointments cancelled within 24 hours will not be refunded.
When is online therapy not suitable?
Online sessions are not suitable if you have:
Suicidal thoughts
Thoughts of hurting yourself or others
An emergency situation or acute crisis
Serious mental health issues
No access to the internet or an unreliable internet/phone signal.
In these cases, I recommend finding a therapist in your area who works face-to-face.
Otherwise, please head over to my online calendar to find a time that suits you best!